NICKSAN by Angel Carbajal, Los Cabos best Japanese food experience

NICKSAN, simply said, is the ultimate Japanese Mexican fusion restaurant in Los Cabos.
Indulge in the award-winning cuisine of Chef Angel Carbajal and see for yourself why NICKSAN was selected as the Best Restaurant during the 2019 edition of the Los Cabos Culinary Awards. This award confirms what foodies have known for years.
When it comes to Japanese food in Los Cabos, NICKSAN is THE place to find fresh and innovative dishes, based on traditional principles of Japanese cuisine with the vibrant flavors of Mexico, which is known as NICKSAN style.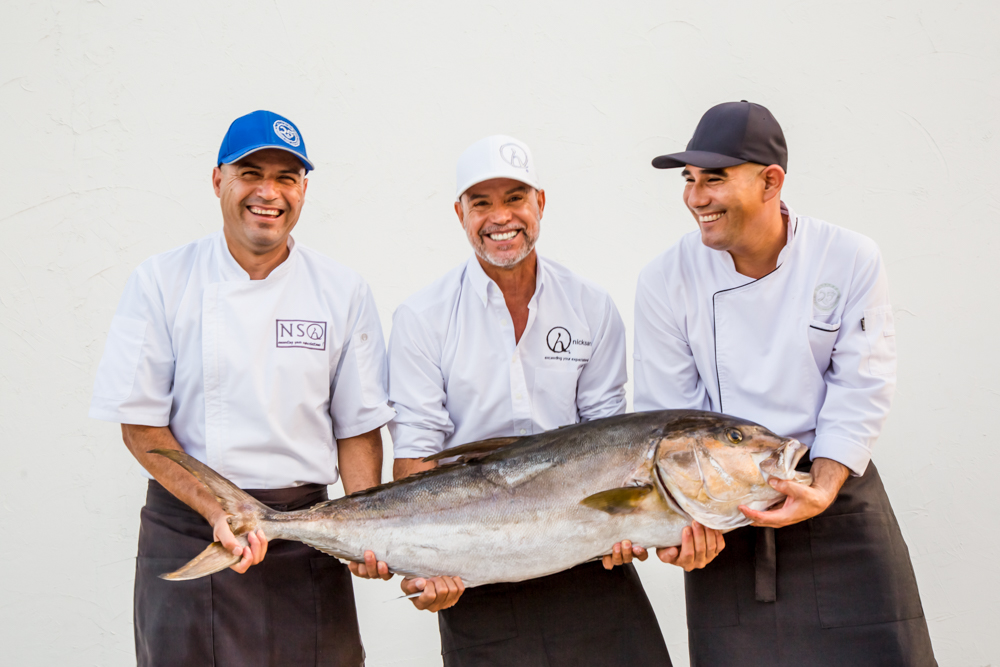 Enjoy a memorable dining experience; discover the extraordinary culinary approach of Angel Carbajal and join the group of loyal followers, celebrities, tourists and local patrons who have made NICKSAN their reference for Japanese food not only in Los Cabos, but in Mexico.
Dining at NICKSAN is a journey into a fantastic combination of flavors, textures and compositions, which blends the best Japanese culinary tradition with the character and spice of Mexico.
At NICKSAN you will embark in a memorable culinary celebration guided by Chef Angel Carbajal's love for offering the best and freshest products from the sea. Meals that are inspired by the tradition and genius of his mentor, Masayuki Niikura, and served in unique settings.
Cabo San Lucas | The Shoppes at Palmilla
Whether you visit the location in Cabo San Lucas; steps from the Cabo San Lucas Marina, or the sleek restaurant in the fashionable The Shoppes at Palmilla; in one of the most exclusive sections of the tourist corridor, a few minutes from San Jose del Cabo. NICKSAN will awaken all your senses. From beautiful settings and artfully designed dishes to please the eye, rich textures, delectable aromas and tasty bites served in casually refined settings for a memorable dining experience.
Reserve now and dive into the delicious flavors of NICKSAN.
"This is my favorite place to eat on this planet.
Chef Angel Carbajal is a genius. Every bite is amazing.
If you are in Cabo don't miss this restaurant."
Mcdewey
San Diego, CA. Feb/2019
Always Ddelicious!
"His restaurant is one of the reasons I enjoy Cabo. Always delicious and the service is always excellent. I can´t recommend it highly enough.
We took a woman who does not enjoy sushi and she loved every bite!
Joey
California, Jan/2019
Wonderful meal!!
Shrimp tempura and lobster rolls were out of this world! Great location and atmosphere. Fun waitstaff made for a perfect experience. Can't wait to go back!
Becky O
Littleton, CO. Mar/2019
Nicksan went beyond my expectations!
When I ordered the veggie roll, the waiter asked if I was a vegetarian. He recommended the mango vegetarian roll with spicy mustard sauce. It was melt in your mouth delicious. My husband ordered the thinly sliced stuffed salmon in a yummy sauce. The presentation was outstanding and he couldn't stop raving about the flavor. From start to finish the atmosphere, the service, and the food could not have been better.
Alex
Memphis
PRIVATE DINING
If you need to request a reservation for more than 10 people, please do send us an email with your information to reservation@nicksan.com Thank you.
PRIVATE EVENTS
Looking for an ideal venue? Look no further. Corporate dinners, special occasions, Chef's Table, let us handle your needs. Reservations are available online 2 weeks before the date of the reservation.